Not so long ago we got interview with story-writer of Arcania and author of stories "Cleaved Maiden" Hans-Jörg Knabel. He agreed to answer some our questions both his work as stry-writer in general, both about his work on Gothic 4. What difficult and interesting moments he met on this way you may know from our interview.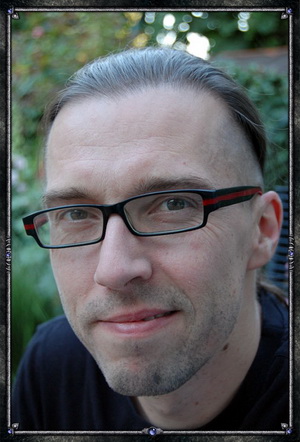 a-g.ru:
In the Russian community you're more likely known as "The Cleaved Maiden" author. In brief, could you depict what was your role in "Arcania" creation?
Hans-Jörg:
I have been Head of Story. That means that I was responsible for the main story arc, the organization of the writing and partly the writing itself, but we had two other guys writing on the project: David Sallmann, one of our level designers, and Dietrich Limper, a freelance writer like I am (People know him better as EDL). And I did the direction of the German voice recordings.
a-g.ru:
What inspiration sources have you used during storyline development? I mean films, books, some other games etc
Hans-Jörg:
We used a lot of stuff for inspiration. The first three Gothic parts, of course, but books and TV series as well. At the time I started to write for the project I read a German fantasy novel called ("Paradies der Schwerter") that I liked a lot and that matched somehow to the project as it was a kind of fantasy that works without elves and other high fantasy elements. In addition I had a closer look at Lost as there has been one character that matched to the hero I had in mind at the beginning of the Project. Hell, I can't remember the name at the moment, but I have internet … Miles. He never does something just like that, he always asks questions before.
a-g.ru:
Wait. Miles matched to the Nameless Hero?
Hans-Jörg:
Yes, up to a certain point. Ususally he does what he is asked to do, but as I said, he always asks questions before he is doing it. And the manner how he asks makes you understand that he clearly understands what the guy who is asking for the favour aims at. In an RPG like Arcania the hero has to ask questions, too, all the time. Therefore Miles has been so interesting for me.
a-g.ru:
Do you mean our hero is always thinking of what he is doing?. Just like Tommy Angelo from "Mafia", as an example?
Hans-Jörg:
Not exactly. He understands what the intentions behind the things he is supposed to do are. That means: He understands very clearly that somebody tries to cheat on him for example
a-g.ru:
You mentioned previous "Gothic"s. How do you estimate their's plot? Was it comfortable to create new storyline in "Gothic"-world?
Hans-Jörg:
It has been tricky. Gothic 3 had many endings, and we had to choose one. And the nameless hero reached everything a man can reach in his life. I mean, he defeated kings and gods alike. This has been a challange, but an interesting one. We faced it by introducing a new hero as you might know and by taking up the Xardas ending of Gothic 3.
a-g.ru:
Was it your decision to change the protagonist?
Hans-Jörg:
It has been a team decision. Not everybody liked it, but most of the people understood the concept of using a new hero and telling the story of the old one from a different point of view. The former nameless hero does not disappear just like that. His story still plays a central role in Arcania. He always has been in a key position and he always will be in a key position in the Gothic world as I see it, but he has reached already too much to be the hero again.
a-g.ru:
Is modern world reflected in a game plot? Policy, modern culture etc
Hans-Jörg:
I think you always have such reflections in the background of your mind if you are writing a story. Usually you are using the characters to tell these reflections. But of course, it is not the role of the writer to do the interpretation. In my opinion, storytelling is an instrument of explaining the world and human nature. It always is, even in games.
a-g.ru:
Let's turn to "The Cleaved Maiden". When the idea of such a story was born? And how?
Hans-Jörg:
The Maiden has been born very early in pre production. Our project lead asked me to write some diary entries from Diego or Gorn etc. for the community. I thought that writing and ready diary entires every four weeks might become a little bit boring (especially the writing) as they have no real action. So I came up with the Cleaved Maiden idea.
a-g.ru:
So, was The Maiden reflected like the platform for entering "old friends" into "Arcania" world? Or Lester, Gorn, Diego appearance was "occasional"?
Hans-Jörg:
The idea of the maiden had many layers. Of course, they were ment to be a marketing instrument, but at the same time they have been an excellent instrument for me as a writer. They gave me the opportunity to have a narrative approach to the game world and to define how the Dialogs of Arcania might sound. At the same time I could find the mood of the story and I got feedback from the fans.
And I had the chance to communicate the backstory of the game. That means the 10 years between Gothic 3 and Arcania.
a-g.ru:
There was a lot of interesting, charismatic characters participating in The Maiden. Will we meet all of them in the game process?
Hans-Jörg:
Most of them, but not all of them. Some characters I just needed for specific scenes, and we didn't use them in the game. But a lot of things may happen in ten years. Some of them might be dead, some of them might have left the island.
a-g.ru:
Is Murdra a prototype for a Gothic character?
Hans-Jörg:
Yes and no. I used her as a prototype for a Gothic character, but in fact she is much older. I designed her shortly after my studies (10 years ago) for a fantasy novel I have been working on. She is the kind of oldish woman living in every small German village sweeping up the sidewalk the whole day and beefing after everybody who doesn't sweep up her sidewalk, too.
a-g.ru:
How do you estimate The Maiden?
Hans-Jörg:
Estimating the Maiden is something the community should do.
a-g.ru:
Is "Arcania"'s plot finished or it'll be some Add-ons\DLCs?
Hans-Jörg:
Well, that is a question I really cannot answer. If there would be an Add-on it would be JoWooD announcing it, not a freelance writer.
a-g.ru:
Please, tell something about your hobbies. Music, sports, arts?
Hans-Jörg:
I'm reading a lot, especially Fantasy novels and historical books, and I like to go to the movies. Well, and of coarse I like to play games, too.
a-g.ru:
Being a true German, you possible wish to drink tasty German beer?
Hans-Jörg:
Ah, no, I don't like beer. Maybe because I'm living close to the French border. I prefer wine instead.
Hans-Jörg:
My regards to the Russian community. I hope that you liked the Maidens and that you enjoy the game, every single one of you!
---
Translators:
wondervill, Deart
Дата публикации: 2010-10-23 13:14:14
Просмотров: 4679
[ Назад ]